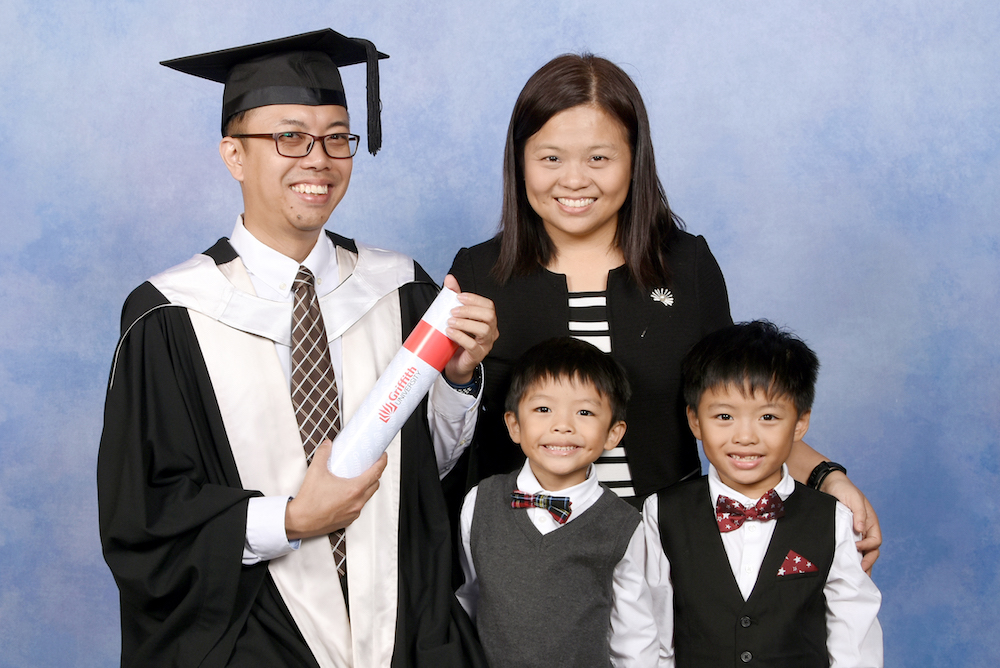 Yang Qixun
Young Men Division
It was a family friend who introduced my eldest sister to Nichiren Buddhism. When I started primary school (in 1987), I had an unbearable itch and pain at my feet. The condition made it difficult for me to focus in class. Seeing my condition deteriorate rapidly, my eldest sister encouraged me to chant Nam-myoho-renge-kyo.
I started to chant and attend the monthly discussion meetings with my sister. The testimonies I heard at those meetings and the cheerful smiles of the Women Division members left a deep impression on me.
After four months of chanting 20 minutes a day, a neighbour introduced a doctor to my father upon hearing my skin condition. However, the medication was expensive. To lighten my parents' burden, I chanted fervently for a speedy recovery. Indeed, I completely recovered shortly after the third prescription. This became my first actual proof and established my conviction in faith.
When I was eight, my mother was diagnosed with cervical cancer. Though she managed to keep the condition under control after chemotherapy, she relapsed a year later. My sisters encouraged my mother to chant, and I remember seeing her wake up in the wee hours to chant and recite the gongyo during the last few months of her life. Her peaceful countenance was great actual proof to many relatives who had tried to dissuade my family from chanting. At my mother's wake, a senior in faith encouraged us to continue with faith and to accumulate good fortune, which will be reflected in our mother's early repose.
Pursuing My Passion
I am grateful that we continued to practise, and I overcame many hurdles in my life through faith, such as studies and work challenges, asthmatic cough, and human relations problems. Looking back, my mother's wish was for me to strive in my studies and become someone who can contribute to society. As I was not gifted academically, I worked hard to complete my tertiary studies in a local polytechnic.
I also contributed as a Student Division leader to foster the youth to repay my debt of gratitude. I constantly pondered how I should challenge myself as a youth. Eventually, I decided to do a part-time degree at a local university while striving as a YMD chapter leader.
It was amidst all these challenges, coping with studies and shift work, that I could appreciate my mentor, Ikeda Sensei's struggles when he attended night classes while working for second Soka Gakkai President Toda.
In 2012, as I continued seeking my mission in the next phase of my life, my younger day's passion to be an educator surfaced. So I chanted and applied for a teaching position at a local tertiary institution. During the interview, the school director who offered me the role praised me for being an active member in SGS. He also encouraged me to continue to engage the youth in school with the experience I had with SGS. I reported my victory to Sensei with the resolution to strive towards becoming a humanistic educator. To strengthen my pedagogical foundation, I enrolled in a part-time master degree in training and development in 2017.
Earnestly Wishing for the Happiness of Others
I have always challenged myself in the compassionate practice of sharing Buddhism with others (shakubuku) and I was truly grateful when I fulfilled my mission, leading my father to take up faith before he passed away at the age of 82 in 2013.
In many of my endeavours, some of my friends would start chanting but stop when they had resolved their problems or just give up halfway.
Nevertheless, I persevered, realising that my efforts in sharing faith with others would enable them to become truly happy.
In our preparation for the SGS Youth Summit 2018, Ikeda Sensei encouraged the youth division to create a breakthrough to bring hope to others. I renewed my determination to carry out propagation amidst the final year of my master's programme. I plucked up the courage to reach out to my ex-colleagues, and invited them to the Chapter Friendship Meeting in March. One of them attended, and I followed up closely with her, praying wholeheartedly for her happiness, and invited her to participate in the Youth Summit.
She was having conflicts with her manager, which affected her deeply. The theme of the Youth Summit, "Choose Hope", resonated with her, and after joining a few training sessions, she decided to start chanting. She took the courage to have a heart-to-heart dialogue with her manager and the situation improved. Together with my Young Women Division leader, we encouraged her to receive the Gohonzon in October that year. Two years later, in October 2020, she took up the mission of a Women Division leader to become a source of hope and encouragement to others!
In the last two years, I have successfully shared Buddhism with another ex-colleague facing work challenges. Since she started practising faith, she has received feedback from her peers that she has become more cheerful and resilient. We are convinced that this is actual proof from her Buddhist practice.
Towards the 70th anniversary of the Young Men Division, I want to encourage one more young man to join our movement. I have a few friends in mind and have been chanting for their happiness. I have, in fact, just invited a young friend to join the Student Division Nationwide Friendship Meeting and the discussion meeting in May and the Youth Study meeting in June.
Ikeda Sensei says, "Sharing Buddhism with others starts from your prayers for the other person's happiness. They will definitely feel the sincerity of your intent. It is your heart that touches and moves others' hearts." ("Humanistic Teachings for Victory ")
I learnt from my experience that sharing Buddhism is nothing extraordinary. It truly starts with our resolute prayers. I shall continue to advance in faith, act with sincerity, and chant for more fellow Bodhisattvas of the Earth to emerge. This is my determination!
(Adapted from July 2021 issue of Creative Life)