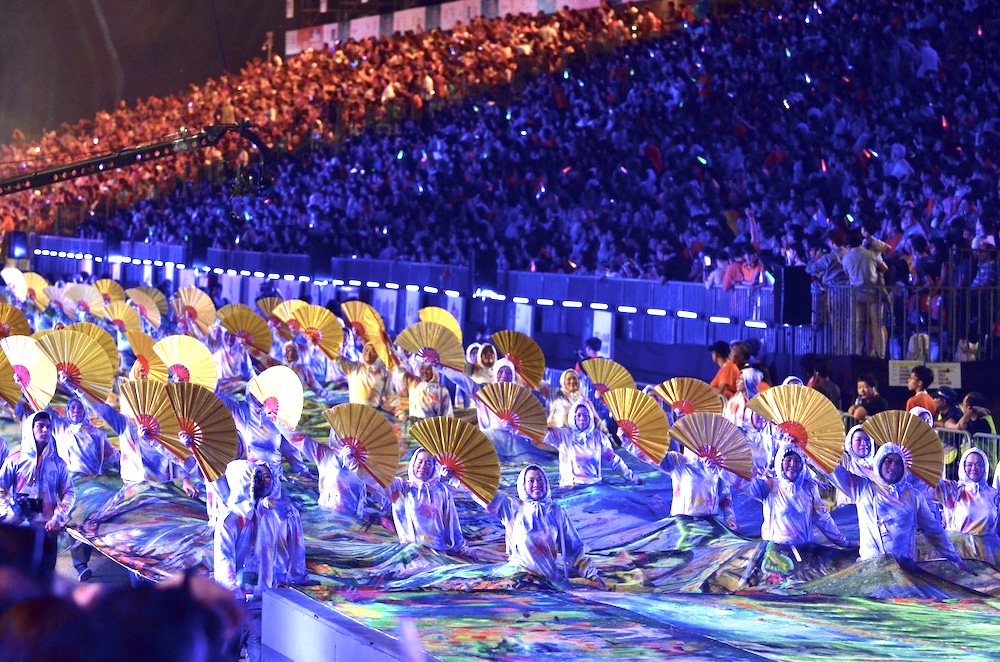 On 15 and 16 February, 240 participants from SSA Regional Headquarters 6 and 8 performed in the Opening Item "Singapore Bicentennial – "Our Past, Present and Future" at the Chingay Parade 2019 that carried the theme "Dreams Funtasia".
This year is particularly significant for SSA as it marks SGS's 35 years of participation in the annual Chingay Parade and this year also marks Singapore's Bicentennial celebrations since Sir Stamford Raffles' arrival in Singapore in year 1819.
SGS's performance in the Opening Item, which was one of the parade's highlight, features the past, present and future of Singapore through a 270m long painting. SSA performers presented the painting that spanned the entire length of the performance arena. Dynamic fan movements were included in the choreography which added strength and impact to the performance.The annual Chingay parade was held at the F1 Pit Building as part of the Lunar New Year festivities and some 6,500 performers from more than 50 local and foreign parade contingents including South Korea, Cambodia, China, Indonesia and Japan were involved.
The Guests of Honour for the 2-day Parade were Prime Minister Lee Hsien Loong and Mrs Lee, President Halimah Yacob and spouse, and various Cabinet Ministers including Minister for Trade and Industry and Deputy Chairman of the People's Association Mr Chan Chun Sing.
The event was also widely reported in the local papers of Lianhe Zaobao and The Straits Times on both 16 and 17 February.
SSA Receives 'Most Popular Contingent' Award
The SSA contingent received the 'Most Popular Contingent' Award at the Chingay Parade 2019 Awards Presentation cum Appreciation Night held on 14 March 2019 at the Singapore Chinese Culture Centre. Guest of Honour for the event was Deputy Chairman of the People's Association, Mr Chan Chun Sing. The award was received by Mr Soh Kim Beng, SSA Chingay 2019 Chairperson.